Roxane Rahimi

75014 PARIS
Mobile : 06 79 97 32 99
Email : Cette adresse e-mail est protégée contre les robots spammeurs. Vous devez activer le JavaScript pour la visualiser.

Télécharger le CV
---
PROJET D'EXAMEN

Lycée à énergie positive de Bègles (33)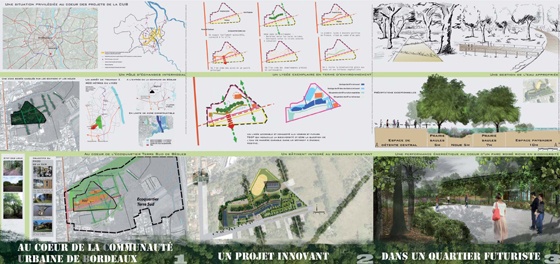 Le lycée à énergie positive de Bègles, situé dans la communauté urbaine de Bordeaux, vise à une qualité environnementale exceptionnelle.
Il est situé au coeur de projets de transports en commun en site propre, ce qui lui confère une accessibilité privilégiée. Par ailleurs soumis aux phénomènes d'inondations la gestion de l'eau est un enjeux important du projet. La biodiversité est également mise en avant avec une préservation des boisements existants.
Une performance énergétique sans aucun doute.

Le premier lycée à énergie positive en France.




Maître d'oeuvre : Trouillot - Hermel Paysagistes
Maître d'ouvrage : Région Aquitaine
Surface : 4 hectares
---
AUTRES TRAVAUX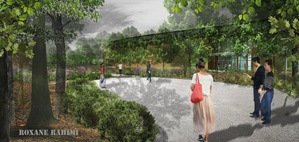 ---
COMPETENCES PROFESSIONNELLES
LANDSCAPE ARCHITECT ASSISTANT

STUDIES
2012-2013 Professional Bachelor in Landscape and urbanism, specialized in Computer Aided Design of Landscape
Faculté des Sciences et Technologies, Epinal (88), FRANCE,
2010-2012 BTEC HND in Landscape architecture, with honors
Lycée Horticole de Grenoble Saint-Ismier (38), FRANCE,
2011-2012 Live drawing course,
Ecole Supérieure d'Art et de Design de Grenoble (38), FRANCE,
June 2010 A level in Science, specialized in Biology
Lycée Fénelon, Paris 75006, FRANCE.

EXPERIENCE
January-April 2013 - Internship in the landscape agency Meristeme directed by Regis Guignard, (92) FRANCE,
Work on projects, CAD, writing of a memoire,
October-December 2011 - Internship in Cobham Hall, Kent, ENGLAND,
Maintenance of the historical garden designed by Humphry Repton and design of a mixed-border,
August 2011 - Internship in Bodiam Nursery, Sussex, ENGLAND,
Potting, cuttings, propagation, weeding,
June-July 2011 - Internship in the Hebert Museum, Isère (38), FRANCE,
Design of a rose garden from a 19th century inspiration,
March 2011 - Internship in Arbr?o?Parc, Paris (75), FRANCE
Cutting and care of trees, bushes and climbing plants. Management of green wastes,
October 2010 - Took part in the layout of a campsite in Saint Hilaire du Touvet (38), FRANCE,
December 2006 - Internship in the advertisement firm CLM BBDO, Paris (75), FRANCE,
Participation in the search of artists according to their photographs in view of producing advertisements.

COMPLEMENTARY INFORMATION
Computer science - InDesign, Photoshop, Sketchup, AutoCAD, Pack office,
Languages - French native language, fluent in English, school level in German,
Travels - England, Spain, Italy, Iran, Canada, Sweden, Germany,
Photography - Analog and digital,
Arts - Inks, watercolor, charcoal, Carré Conté, acrylic, oil,
Sports - Walking, climbing, TaeKwonDo, skiing.